2015-2016 Wish List
The Literacy Connection seeks various goods and services to meet the needs of its students. Please help our wishes come true! The Literacy Connection, a ProLiteracy affiliate, serves 16 northwest Chicago suburban communities, including Algonquin, Bartlett, Carpentersville, Cary, Elgin, South Elgin, East Dundee, West Dundee, Gilberts, Hanover Park, Hampshire, Hoffman Estates, Huntley, Lake in the Hills, Streamwood and Schaumburg. Programs include English as a Second Language, Basic Reading, Workplace Literacy, Family Literacy, and others.
Volunteers Needed:
Tutors: Give the gift of time. The Literacy Connection always seeks tutors to help adults reach their literacy goals.
Administrative Opportunities: Help us with social media updates, e-newsletter design, data entry, filing, scanning, graphic design, mailings, etc.
Community Events: Assist at local events and volunteer fairs by speaking to people casually about how to become a literacy tutor.
Fundraising: Help with organizing or running various fundraising events.
Board Members: Interested individuals serve The Literacy Connection in an active leadership role for a minimum three-year term.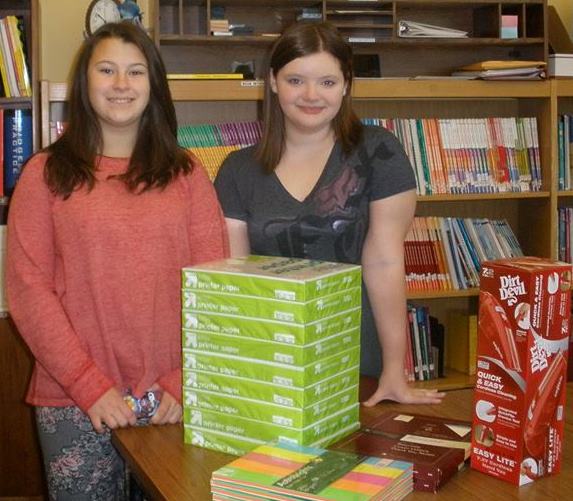 Thank you Julia & Amanda - you are making a difference!
Julia Perrone & Amanda Caridei from Girl Scout Troop #40 chose to focus their Silver Award Project on literacy. The girls collected gift cards and purchased items on our wish list.
Supplies/Equipment Needed:
Award/certificate paper

Copy paper reams (white or colored)

Cordless computer vacuum

Gift cards for stores that carry either office supplies or books
Mailing labels (#5160)
Receipt books
Brother toner cartridges TN110 (C,M,Y, or K)
Services Needed:
Advertising/promotional printing services and materials (imprinted with our name and logo)
Place an ad/notice in a local church bulletin
Invite a speaker to address your club, company or church about The Literacy Connection
Distribute Literacy Connection brochures/bookmarks at your business or place of worship
Donate (sponsor) food and beverages for events and fundraisers
Program Supplies:
New or gently used Children's books in English or Spanish

If you can help with any of these items, please call our office at (847) 742-6565 or email us at This email address is being protected from spambots. You need JavaScript enabled to view it.

Thank you!