Kiwanis Club of Elgin Wins First Place in Literacy Connection's Annual Trivia Bee
Nineteen teams competed on Saturday, April 9, 2016, in The Literacy Connection's 19th Annual Trivia Bee Fundraiser.
First Place: The Kiwanis Club of Elgin (Elgin Noon Kiwanis) team, including members John Steffen, Glenn Fermoyle, Deb Stowell, and Tom Cotter, took first place with a one-point lead.
Second place: Elgin Community College Faculty Association represented by Scott Vaszily, John Mravik, Jessica Wedemeyer, and Tim Malone, won the tie-breaker round to secure second place.
Third Place: The Clee team included Sue and Steve McCracken, Wendy Molof, and Bud Wilson.
The final rank of the top 11 teams was:
| | |
| --- | --- |
| TEAM NAME | PLACE |
| Kiwanis Club of Elgin | 1 |
| ECCFA | 2 |
| Clee Engineering | 3 |
| High Hopes | 4 |
| Community Crisis Center | 5 |
| ECC Spartans | 6 |
| Algonquin Area Public Library | 7 |
| Densa | 7 |
| Gail Borden Public Library | 9 |
| Vic's Formula | 10 |
| Team Christenson | 10 |
First through third place team members received individual trophies and gift cards.
Grand Prize Raffle
First Prize: Leonora Thompson, Apple iPad Air
Second Prize: Alex Yu, $250 cash
Third Prize: Mike Thomas, two concert tickets for Florence and the Machine
A "Fund-A-Need" campaign raised donations for a new copier over $800 was raised for that cause.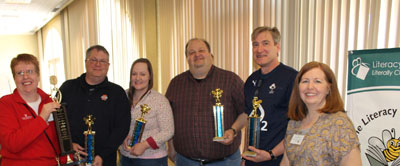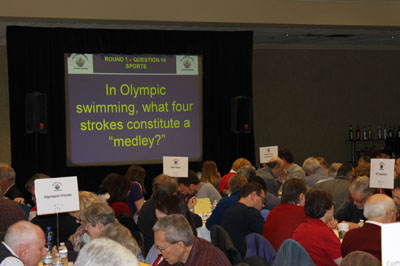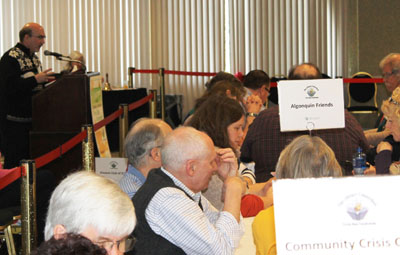 ---
The Adult Literacy Crisis
There are adults in local communities who
read at the lowest levels of literacy.
There many adults who have limited English skills.
They need our help.
When adults learn to read and write, they have the power to transform their lives.
Why Literacy? Why not focus on world health? Or gender equality? Or poverty relief? The answer is simple. To solve all of these socioeconomic problems and more, we must start by building a more literate adult population. Because when individuals the world over learn how to read, write, do basic math, and use computers, the more likely they are to lift themselves out of poverty, contribute to improved health care costs, and find and keep sustainable employment.
Please donate or volunteer to help improve the lives of your neighbors today.
- See more information about the Adult Literacy Crisis at: http://www.proliteracy.org/the-crisis/overview#sthash.3kGXPB4a.dpuf