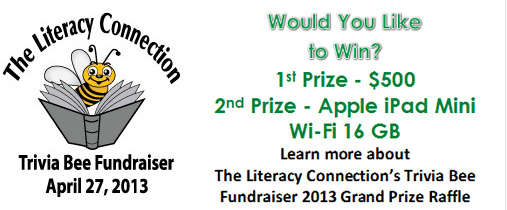 16th Annual Trivia Bee Fundraiser
Fox River Room, Grand Victoria Casino, 250 S. Grove Avenue in Elgin
Doors open at 8:30 a.m. Event takes place from 9:30 a.m.-12:30 p.m.
Refreshments will be provided.
NEW THIS YEAR: Cash bar including Mimosas and Bloody Marys.
Do you have a knack for facts?
Perhaps you find yourself tuning in when a trivia question is asked
on the radio or on television.
Are you aware that an estimated eleven million adults in the U.S.
are illiterate in English?
Since 1987, The Literacy Connection has sponsored an annual trivia bee competition to raise funds to further our mission to help adults and families reach their literacy goals. Thanks to many local businesses and teams, we raised $18,196 in profits in 2012 to support local literacy efforts.
Join the fun in 2013 by entering a team to compete or donate an item or service to help us reach our $20,000 fundraising goal. We hope we can count on your support. Thank you!
GET INVOLVED!
TEAM PARTICIPATION —Teams are comprised of no more than four members. Competition consists of three rounds of questions from a variety of categories. How do I sign-up a team?
Complete and mail Team Registration Form ($400 entry fee per team can be mailed with a completed registration form or pay online NOW, but still complete and mail registration form to our office)
MAKE A FINANCIAL DONATION —Contribute $25, $50, $100 or any amount to support local literacy efforts. Teams registering for the Bee can add an extra donation here.
---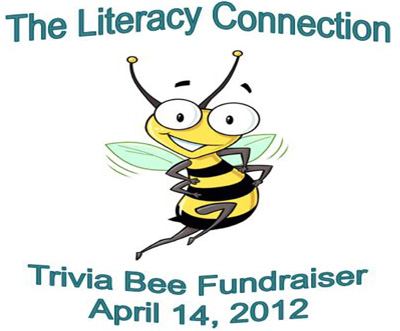 The 2012 grand prize was won by Herb Hedstrom of Elgin, which included two round-trip tickets on Southwest Airlines, two Disney one-day park hopper passes, and a condo in Orlando for seven days. The second place prize, an iPad 2, was won by Gary Vierck of Elgin.

The event was sponsored in part by Grand Victoria Foundation, Chicago Sun-Times, Grand Victoria Casino, SKF, and LeaderBoard of Chicago West.
The following teams participated in the event:
Algonquin Area Public Library
"Bee Team"
Clee Engineering
Community Crisis Center
"Densa"
Elgin Community College
Elgin Public Museum
EMHC
"Fox Docs"
Friends of Algonquin Public Library
Friends of Lords Park Zoo
Gail Borden Public Library
Grand Victoria Casino #1
Grand Victoria Casino #2
Grand Victoria Casino #3
High Hopes
Judson University
News Hounds
"Red Badgers"
Rotary Club of Elgin
SKF Brain Trotters
SKF Brain Trust
Sun City Senior Moments
Sun-Times Features
Sun-Times Metro
Team ECCFA
Thank you to all the businesses, organizations, community members, Board Members, and volunteers who donated money and prizes, participated in the competition and helped at the event.